HATRED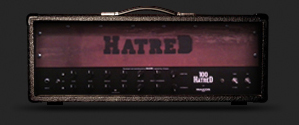 HatreD100 is a custom hand built, all tube modern metal amplifier, without any compromises… "Built to Rust and Roll"
Features:
100W tube power from 4x6L6 power tetrodes – HatreD100
50W tube power from 2x6L6 power tetrodes – HatreD50
4x12AX7/ECC83 preamp tubes.
1x12AT7/ECC81 preamp tube for the phase splitter (can be changed to ECC82, or ECC83 as well).
Two independent channels, with separate EQs (Bass, Middle, Treble).
Footswitchable lead boost on the dirty channel, for your solos, to cut through the mix.
Series or parallel effects loop, footwitchable true bypass on the HatreD100.
Global presence and feedback controls, additional hi-freq shaping on the lead channel as "HICUT".
4, 8 & 16 Ohm output jacks.
Point to point constructions, NO PC boards, designed for a lifetime. Solid core wires, tag boards are made from 3mm thick G10 garolite epoxy.